Zip Line and ATVs in Los Cabos
Holidays are a time to have fun with your family, to take advantage of time and do new things, have incredible experiences and be able to free yourself from the stress of daily life, work, and school.
That is why many of the people who go on vacation seek to venture into the various activities they can do in the destination they are going to, and if you want to go to Los Cabos, I will tell you about a tour in which you will definitely have fun.
The adventure awaits us, let's prepare!
At Royal Solaris Los Cabos, you can find various tour agencies, who can help you get out of adventure, as well as you can schedule your activities before arriving at the hotel.
One of the tours that stand out among tourists is the Zipline and ATV Tour, in this Tour you can venture into the desert of Los Cabos, where they will guide you to one of the majestic canyons that are nearby and the landscape of this beautiful destination.
Before taking this Tour, remember that you have to take into account the regulations since not all people can be suitable for it, that's why I share the recommendations and restrictions that this activity has: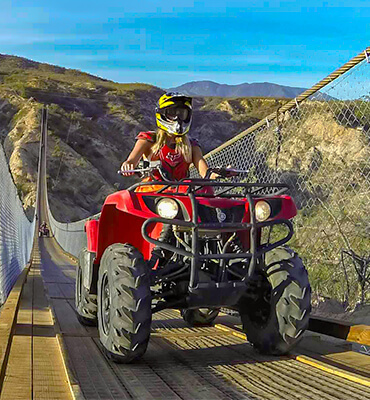 Minimum age: 8 y.o.
Minimum height: 4 ft
Maximum weight: 260 lbs
For your safety and that of the baby, access is not allowed to pregnant women or people with back or heart problems or vertigo/balance
ATV drivers must be over 18 and have a valid license
For your security, the use cameras is restricted during the Tour
Insurance of USD 25 should be covered against damages and shocks when checking in.

It's Time to Have Fun!

Professional team of Zipline instructors
Paliacate (to protect you from the sun and dust)
Bottled water
Light snack during the Tour
Round trip transportation with A/C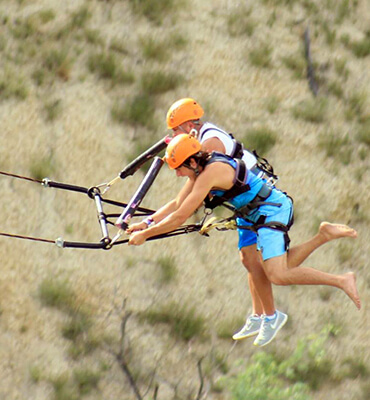 I recommend that you take some shorts or light pants so you can move comfortably and because you'll be out in the open during the Tour, wear clothes that can get dirty and comfortable shoes for the ride.
Of course, something we need to take with us is a sunscreen and mosquito repellent just in case. And obviously, you need to have some money with you if you want to buy a souvenir.
When going on the Tour, you will arrive at your destination, a canyon near Cabo San Lucas, where the guides take you to different areas where you can do rappel, zip line and even drive ATVs through an impressive suspended bridge in the sky of the canyon.
And all this you can do in a reserve of the biosphere protected by UNESCO, so while you have fun, you can know that you are taking care of the environment by supporting this natural reserve.
Obviously you will want to zipline during your visit, so better prepare yourself to enjoy since you can launch yourself through "Superman", the fastest, longest and fun zip line in Mexico, where you can go over 60 mph with more 800 feet long, it is certainly an experience that you cannot miss.
Currently, they have a new attraction for you to discover on your next visit: "The Pendulum," without a doubt the adrenaline, fun awaits you at the Destination of Los Cabos, the question that remains is, when are you coming to have fun?