Slip in the fun of the new waterslide!
One of the advantages, when we visit an all-inclusive hotel, is that food and shows are part of the package we buy, that's why this type of hotel is one of the favorites for families looking to go on vacation without spending any more, as They know they can have an enjoyable holiday.
And of course one of the significant advantages of choosing Royal Solaris Los Cabos, apart from being all-inclusive, it has the perfect place for children to have fun, they have aMiniclub.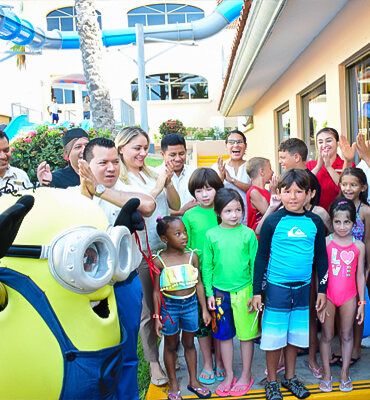 This is where young children to pre-teens can enjoy a good time, have the opportunity to do activities, games, and crafts with the help of the Animation team, who will take care of keeping all children happy and safe.
But this is not all, as they also have particular areas to enjoy, from a water park, playgrounds, a water slide, and the most recent attraction that opened on June 27, 2019, An Aquatic Slide!
During its opening, the Hotel Managers, as well as the staff of Miniclub, parents, children and even Pancho Solaris were present, with decorated pancakes, and the help of a guest cut the ribbon.
Now on your next visit, you can be sure that your children can enjoy this great attraction, where your children can have fun in the new slide, which measures approximately 85 feet long, and 30 feet tall, with two spirals, we can assure you that They will love it.
And of course, you do not have to worry, because the Miniclub team will be on the lookout, as well as take care of your children at all times while having fun in the Aquatic Park. In case you want to feel even safer, make sure you tell your children to take into account and follow the instructions of the staff, as well as respect the rules for the slide.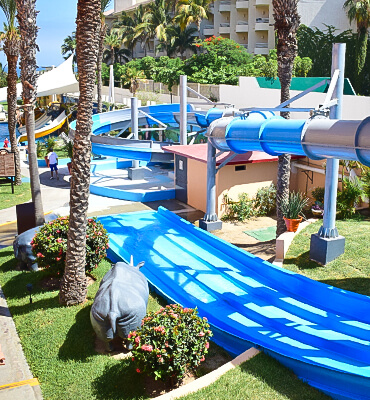 Water Slide Rules:

Ages: 8 to 17 years
Minimum Weight: 42 pounds
Maximum weight: 240 pounds
Minimum Height: 4 feet

The correct position to jump off the slide is:

Lying on the back
Feet forward, arms and legs crossed at all times
Once out of the slide, exit the slide to avoid getting hit
If you decide to visit the Solaris Hotel in Los Cabos, you can surprise your children, as well as make sure they can have fun.
We will be waiting for you to come and enjoy with your loved ones.