Sports Vacation in Los Cabos
Holidays are the perfect time to have fun, to enjoy a destination with the ideal climate to rest and enjoy days full of emotion.
One of the best ways to live a complete holiday full of life and energy is by being active while your body has fun, you'll feel full of adrenaline. And of course, there is nothing better to do it all, then with your loved ones.
But, how can I have the most complete vacation with fun activities?
The answer is simple, it's time to do some Exercise!
If you are staying at Royal Solaris Los Cabos, you have the opportunity to play sports with your friends and family. At this hotel, you'll have different areas to practice them, such as:
The Gym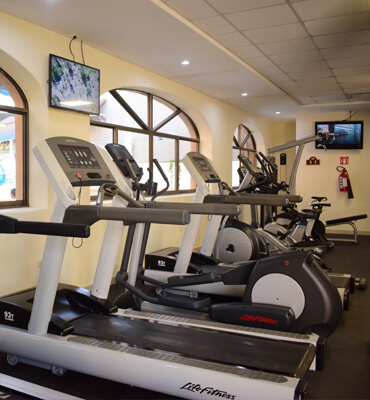 The Gym is the favorite places for people who wake up at 7am since its open early, and without a doubt, it is the perfect place for everyone to exercise, have fun and built some muscle, and even entertain themselves while doing it.
When we enter this place, we can realize that we will have a PT, who will make sure that we exercise correctly, as well as help us with what we need.
We can also find amenities within the Gym, such as Towels to clean out the Sweat, Water Bottles, Wet Towels to clean the equipment, as well as the whole area is air-conditioned.
One of the significant advantages is that we can find a variety of equipment to exercise, from treadmills, exercise bikes both have a panoramic view of the Kids Club, and cup holders, heart rate monitors and there is even a television nearby if we just want to enjoy a show or a movie while we exercise.
In the same way for people who want to continue with their usual exercise routine, in the Gym, we can find equipment to lift weights, dumbbells to which we can add different weights, and even Leg Press, Rowing Machines, Bench press, Dorsal machines and many more!
There are also cardiovascular activities for the ladies and gentlemen if what we are looking for is to have fun while we take dance lessons, this can be found simply by climbing the stairs of the Los Cabos gym.
Zumba classes: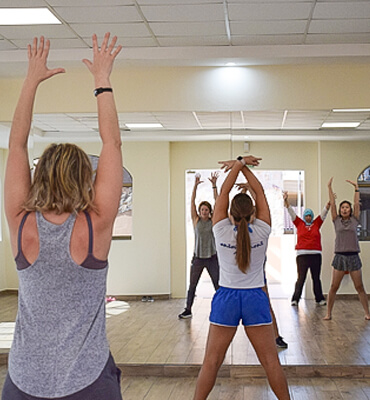 The class begins at 9:30 am, where as with any exercise, you start stretching your muscles,, here we can warm up our for the Zumba class, just like it is the time when people arrive and integrate with the instructor, who are the same members of our Animation team.
At 10:30 am in the morning the dance class begins, where all the Members and Guests can be integrated to spend a fun morning with the best rhythms. that way you can learn from the same people who participate in the Dance Shows, practice makes perfect!
We can also find amenities in this area, from lightweight dumbbells, bottles of water and towels for sweat, we can certainly enjoy a fun morning.
Tennis: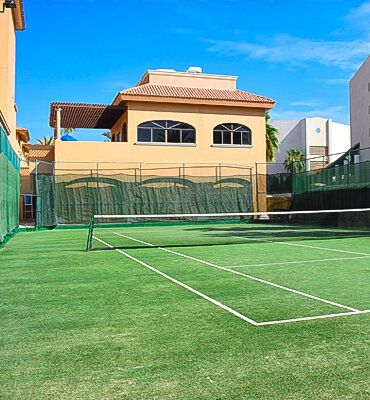 Maybe we are looking for a place to practice a sport, to spend time with our loved ones, to have fun with our family and to have a competitive match with our friends or to enjoy a friendly game with the family, and the perfect place to do it is right next to the Gym.
You can find a tennis court, just a couple of steps from the Gym, this court is fenced so that when practicing tennis you do not have problems that a ball comes out, as it gives you more privacy when practicing.
To enter the tennis court you have to go to the Lobby at front desk, and ask to make a reservation for the area, this is because during the day many people may want to play, but not everyone wants to have an audience or wait while playing; This way you can set aside the court for the time that is most convenient for you and you can play whenever you want.
Just make sure to bring comfortable clothes and a bottle of water to spend quality time with your loved ones.
Basketball:
Maybe tennis is not your thing, and you get more attention from the NBA, so you want to practice some basketball, if so, as with the tennis court, you will not have to go far because right next to it, you can find a basketball court.
With the official Basketball measurements, and of course we can borrow the balls for it, also something you can get in the Lobby, the baskets are multifunctional as you can change the height for games with friends or for when you want to take your children to teach them how to play.
We recommend you take sunscreen if you want to play in the afternoon, as well as sportswear; This field is open, so you may find other guests who wish to have a one on one or 3 on 3 friendly game.
Activities in the pool:
One of the advantages you also have is that you can do these activities with the animation team, have fun and even win prizes!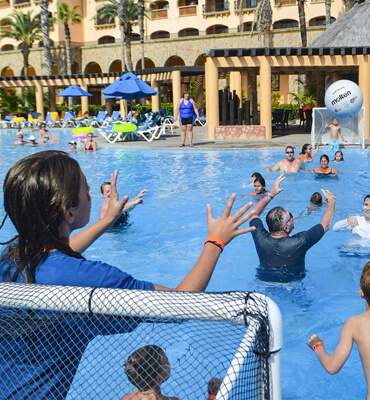 Water polo:
An activity for the whole family, in which adults and children can participate in it.
If you are a soccer fan, but you do not find how to play it in the pool, then this is the game for you.
In this competition, two teams are faced where they try to score in the opposite goal, a game of skill of hands, marksmanship, and speed. You can participate in this game with your friends and even form your own team to challenge others, although the most crucial thing is always to have fun as never before.
Push ups Contest:
One of the activities in which only the strongest participate, this is a test of resistance that takes place in the main pool, where it is not all about who does more, but who manages to endure for longer.
We recommend you not to take many drinks before participating, and if you want to prepare for this activity, you only need to approach the animation team and ask so that you can challenge your friends in this fun competition.
Volleyball in the Pool
You may want to practice another sport in the pool, one where you can improve your reflexes and demonstrate your skill, for this you have the Volleyball in the Pool game, which is played right next to Pizzallisima so after the game ends. you can go grab a delicious slice of pizza.
In Volleyball in the Pool rules are like traditional Volleyball, but water adds a factor of difficulty, the whole family can participate in this game, so be prepared if you want to join in this fun activity. post data, there is no minimum or maximum participant number by teams.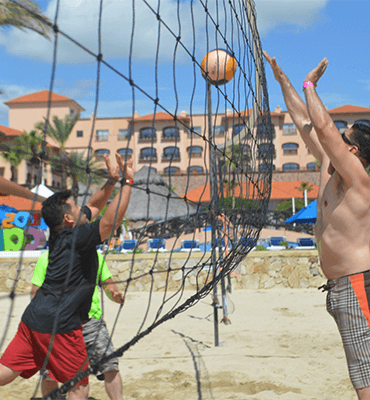 Beach volleyball
Something that wasn't missed about were the games of a traditional volleyball, but we play it on the beach. For this game you'll have a standard size court just like it is adjacent to this smaller court so that children can also have their contests.
You have to imagine an afternoon with friends, while enjoying a friendly game of Volleyball, with the sun, the sea breeze to know that this is something that can not miss during your vacation. Remember to put on sunscreen.
Tour to San José Downtown:
Exploring the destination can also be an excellent physical activity, which can be both fun and exciting, and what better to do it by bicycle.
In case you didn't know, in front of Royal Solaris in Cabos, there is a bike path. Which is built so that the people who like to go out and ride the area by bicycle can do so without having to be bothered by traffic, pedestrians, etc.
The same led the Hotel Animation team to take advantage of this opportunity and do an activity, a Bicycle Tour to the San José Downtown. Where all the Guests who want to join can go to tour the resort, as well as have time to see shops, art galleries, among others, before having to return to the hotel.
Without a doubt, at our Cabo mexico all inclusive resort, you can have fun in the best way while you exercise, and there are still many more activities you can do if you want to discover more about them, just make sure you stay up to date with our blogs.
We will be waiting for you at your favorite hotel so that you can enjoy an unparalleled vacation.