The Perfect Tan at Solaris Resorts
Hello everybody, summertime is approaching very fast, and the beach is a must do, whether it is at a family trip, or a friend one.
Now we know that we always want to brag about our vacations to people back home, and not all of them we have them as friends on Facebook or Instagram so they can see our pictures, so another form of doing it, subtly is for them to notice our new skin color, that we acquire by tanning in the beach.
Please do not mistake tanning on the beach, with burning at the beach as previously stated in our blog Taking care of your skin while on vacations.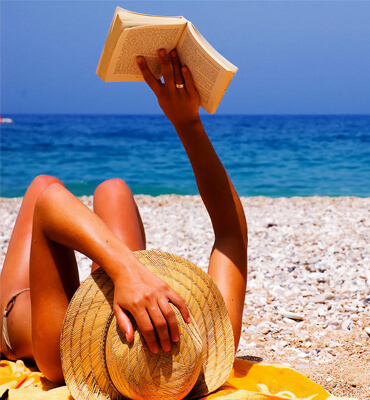 Way back in the 80s several methods believed, gave you a better tan, some of the most popular ones was pouring Coke on your body, the sugary liquid was supposed to penetrate the pores in an even way; The other was spreading olive oil in your body, but that instead of giving you a dark color, burned you faster, and another one I use to hear was pouring dark beer all over your body; the last one was pouring carrot juice. All of these are the WRONG things to do, as they will leave you sticky and red because of the sun rays.
Also, it is false that the longer you stay out in the sun, the better tan you will get, different bodies, different times, once you see your skin getting red, is time to look for some shade, as is not going to get better or darker.
There are several products that can help you achieve the perfect tan, like suntan lotions, instant do it your self-tanners, or tanning spray guns that can be applied by experts, and there are also suntan beds to get and even gold skin, but we are talking about vacations, no one goes to the saloon to achieve this.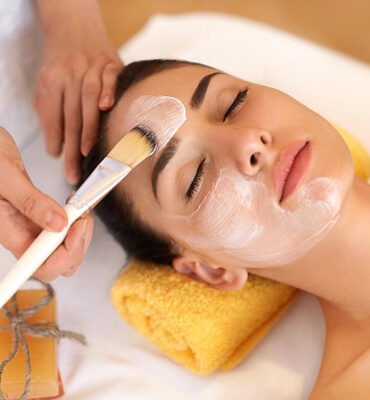 So here are our secrets to get a Natural Tan while at the Solaris hotels.
First of all
, you will need to consume highly enriched foods that contain Beta- carotene, at least a week before your trip, some day to day vegetables and fruits are: Carrots, mangos, apricots, papaya, tomatoes or spinach, this will make your body produce more melanin, and protect it from the UV rays in a natural way giving you a lovely glow to your tan.
TIP: JUICE them! Hey a great and healthy way to consume some of them, are in a smoothie.
Second.
Before hitting the beach or the pool, Exfoliate, that way you can remove dead cells, and have a lasting bronze glow after tanning, you just need a scrub or a loofa in the shower, it is not mandatory, but very recommended.
TIP: don't have time to do it? Worry no more, We have a SPA that offers that service, alongside other treatments you can take advantage, like a chocolate exfoliation therapy, ask your concierge about any available discounts.
Third.
Select your favorite suntan lotion, either in cream or spray, both will have an oily consistency, so spread it out well, and avoid leaving spots, most of them also have some sort of protection, choose an SPF 30 or higher.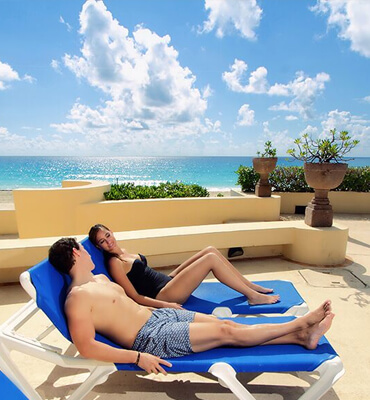 TIP 1: want a slow even tan? Start off with a Sunblock SPF 50 for about one hour, then lower it to an SPF 30 for another hour, that will give you a protective layer, and a base tan, rinse and air dry, then apply the tanning oil, that way you know you're already protected from major sun damage.
TIP 2: You can use coconut oil, apply it as a gentle massage and let it soak in, it will moisturize your skin, and gives you a sun-kissed gold bronze, just beware, don't stay too long, as the process is faster.
Important,
while you are tanning, set up an alarm on your cell phone every 20 minutes or so, for you to turn backward, and sideways, that way you can assure you will get an even tan.Ask someone, if they see you developing a red skin or a rash, if so, get out of the sun, don't make it worse, you've already burned.
After all the sunbathing, you need to moisturize your skin, remember it has been in the sun all day, and dryness occurs, take a shower, and then use aloe vera gels and or vitamin E lotion, keep doing it, when your back home, to maintain the color for a more extended period of time.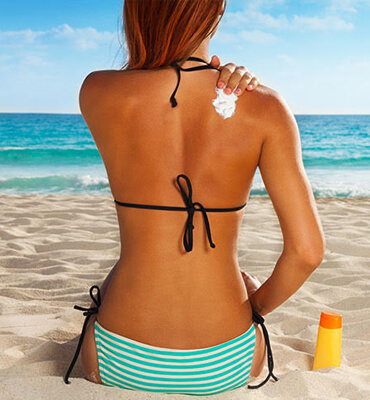 Use lip balm
Wear sunglasses or 2 slices of cucumber to cover your eyes
Drink a lot of water, keep hydrated ( less alcoholic drinks )
Ladies only: remove bathing suits straps occasionally to avoid tan lines.
Don't use scrubs when bathing after you get the tan, that will exfoliate your skin, and loose the tanned cells.
Look for a spot on the beach, away from the crowd, that way they don't kick sand on your body while walking by.
Be patient, you have a couple of days to achieve the tan, don't try to do it all the first day, and ruin the chance for you to hang in the pool or the beach the rest of the week.
The best time to sunbathe is Between 7am, and 10 am, or from 5 pm to 7 pm, in the other time frame you can be in the shade, and tan also, as the beach sand is reflective, and will hit your skin in less amount, slowly but surely.
Following this advice, during your vacations at the Solaris Resorts in the dazzling Caribbean destination, will guarantee you the perfect tan you're looking for.