Top 7 things you must do in your next Cabo vacation in 2019
Traveling is not to stressful, people, when leaving on a trip worry too much, when in fact what they should do is un-stress and relax.
We present you the 7 things that you can not miss, in your next visit to Los Cabos, experiences that makes this location special, and for which thousands of tourists return year after year, so that in your vacations you have new places to discover and explore in this beautiful destination.
This way you can avoid having to plan,as we can do it for you, so you can just get to enjoy Los Cabos!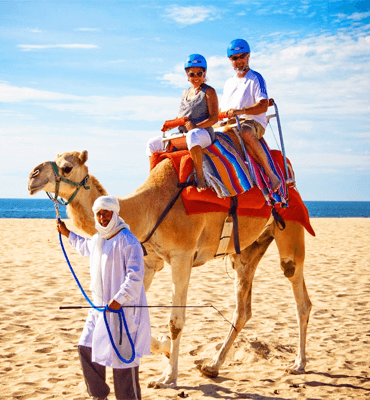 1.- Camel Ride Tours in Los Cabos
The climate of Los Cabos is just perfect for visitors, who come from cold climates, because here the cool breeze of the sea mixes with the desert heat, giving Los Cabos a unique environment, with a tropical freshness, ideal for relaxing.
And not only that, as this destination is also known by many, as the perfect place to go on an adventure, or enjoy a walk on the beach, and why not do both at the same time?
In Los Cabos you can enjoy one of the most popular tours for adults and children who come on vacation, the Camel Tours, where you can meet and even ride a true desert camel, you can also just walk with them on the beach.
Seeing these beautiful animals here in los Cabos, which usually are only found in the Middle East, itself is a unique experience that you can share with your loved ones during your next vacation.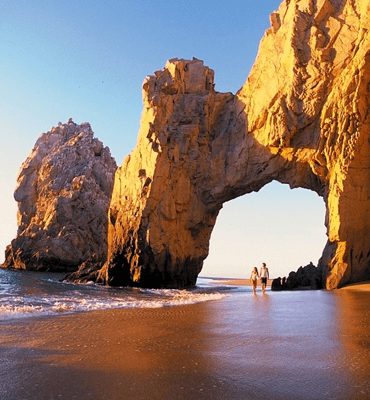 2.- Cabo San Lucas Arch
Something for which Los Cabos is well known is for its natural beauty, its beautiful beaches, and its spectacular view, and the Best landmark and icon of this destination is the Arch of Cabo San Lucas.
The Cabo San Lucas Arch is a rock formation, which includes a natural arch, which is the southern tip of the Baja California Sur Peninsula. Many argue that it looks like a triceratops drinking water. The arch separates the Gulf of California from the Pacific Ocean. It also bears a strong resemblance to the arc of Hvítserkur in Iceland.
This rock formation attracts many tourists to Los Cabos and as an additional attraction, each leap year the low tide allows to have a beach underneath, called the Beach of love, so you can walk under the arc. Although it is not recommended, since it is right in the middle of the sea and there is a risk that the waves will knock you down or drag you to the sea, our recommendation is to appreciate this natural phenomenon from the safety of the boat in which you travel.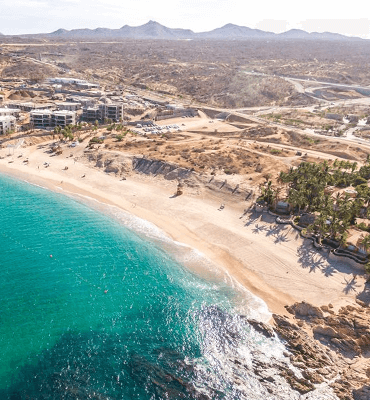 3.- Blue Flag Beaches in Cabos
When we think of Los Cabos, we think of the Beach, the moment of separating ourselves from our daily stress, of freeing ourselves and being able to rest on the beach, with a refreshing drink or having fun and spending time in the cool sea while enjoying time with your loved ones.
Luckily for all those who visit us the beaches of Los Cabos where you can swim are less than 20 minutes from the hotel Club Solaris Cabos (being these the closest), so you will not have to go far to enjoy the sea and the beach. This way you can just take a taxi and be on your way to spend a spectacular day on the shores of Los Cabos, but why come to these beaches? What makes them so unique?
One of the reasons why the beaches of Los Cabos are the preferred places for international tourists is because they are usually not so crowded beaches, so it is a perfect place to spend a quiet day with your partner or family.
The sand that you can find here near the seashore is thin but not so much so that after you can not easily remove it, the waves that you can expect here are calm and not so hard, so it is not a dangerous place to go with your children.
So if you're thinking about Beach, relaxing, having fun with your family or friends, all you have to do is think of Los Cabos!
This is just one of the reasons the beaches of this destination are chosen by many tourists from around the world, but you may be wondering, how can I know if the beach I'm going to is so safe? The answer is Blue Flag!
The Blue Flag Certification
One way to know if a beach is right for your vacation is if it has a blue flag, this flag means that it has the Blue Flag Certification. But what does this certification mean?
It means that this beach has the internationally established standards to be an excellent beach so you can safely enjoy your time here.
From having clean sand to being able to swim in the fresh water all day without worries, this beach has it all for you.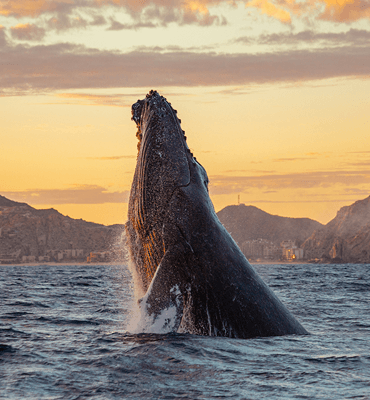 4.- Whale Tours
Los Cabos is part of the migratory trajectory of the whales that come for the winter from the coasts of Alaska and Canada, where they usually spend this season and even travel with their calves, so it is not rare to see baby whales as well. and sometimes, you can see whales as early mid-November to early May.
During the season, you have the opportunity to take one of the tours to see whales and complement your vacation, you can go early, so you will find the calm sea, with less wind and few waves, this would be the ideal time for people who get dizzy or families with small children.
Do not miss this opportunity to witness these beautiful marine creatures up close.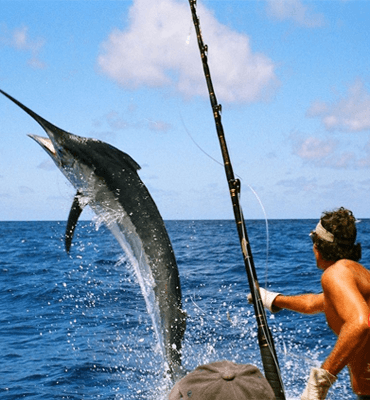 5.- Sports Fishing in Los Cabos
Something well known throughout the Baja California Coast, in Los Cabos specifically, is the great variety of marine life that exists, as well as the vast variety of fish that come to the coast and even the great sports fishing that exists in this zone.
That's right, for those who like to fish, without a doubt Los Cabos is an ideal destination for them, because not only there are many different types of fish, but also, this coast is one of the most recognized worldwide for sport fishing events, such like the Bisbee's.
Los Cabos offers fishermen a wide variety of species throughout the year. You can come whenever you want and go fishing; There is always a good chance that you will come back with a catch.
In Los Cabos is also host of one of the largest International fishing competition, with thousands of participants, millions in prizes and endless opportunities, and its called the Bisbee's tournament
The Bisbee Tournaments have been held in Los Cabos for more than 30 years. These tournaments are presented throughout the year in the Baja California coasts, with different categories, times, rules, etc.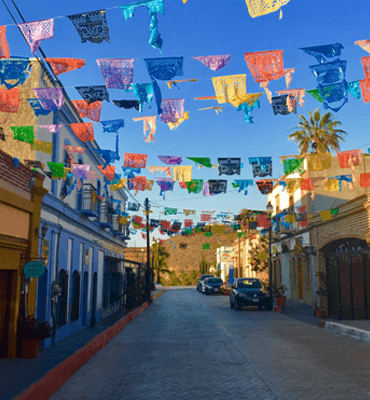 6.- Todos Santos
Todos Santos is a "Magic Town" according to what has been said because right here, is the Hotel California, the same one that was made so famous by the song with the same name by the band The Eagles.
A beautiful town, beautiful buildings with views of the colonial era, local art, and Mexican handicrafts, and of course delicious and regional food, with calm and perfect beaches for those who like to relax or surf.
Todos Santos is located one hour from Cabo San Lucas by the Pacific coast and is close to the beach, here you can visit culturally essential sites that will surely catch your attention. Just like the House of Culture where you can see samples of art created by local and new artists and even musicians in training,. You can visit the Zarapes Factory where you will see the traditional garments of the region, the Mission of Our Lady of Pilar, the parish of the town, which has been maintained over the years and is one of the most beautiful buildings in this town. You can even visit the Art Galleries, Crafts and Jewelry where they will show you the beautiful expressions of art that local artists, renowned or even jewelers and craftsmen who show their skills by traditionally making crafts and necklaces.
Todos Santos is suggested as an Art and Culture Center where some popular art events take place during the year.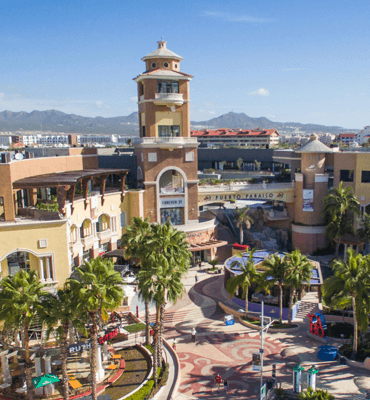 7.- The Plaza of Puerto Paraíso
Puerto Paraiso Mall is located right in the center of Cabo San Lucas, Baja California Sur, next to the state's largest Marina, the Marina of Cabo San Lucas.
The Plaza de Puerto Paraiso is one of the most visited places by tourists of Los Cabos, not only because it has many shops for everyone, but because they are not limited to simple things, since here you can find crafts, jewelry, among many other things.
If you want to walk the marina you can do so, or you can even have dinner while you watch the sunset, in one of the different restaurants that this place has for you, from seafood, BBqs or even traditional Mexican tacos.
Los Cabos is the Destination for Everyone
Without a doubt, the destiny of Los Cabos is one in which children of all ages can take advantage of, explore, get to know and have fun, uniquely and differently. These are just some of the countless ways in which you can make your next memorable vacation
And our biggest recommendation for you for your next vacation is Have fun!
We will be waiting for you at your destination, Los Cabos!