When going on vacations, the best thing about it, is the memories created and how we reprise them in pictures, it's unbelievable how a photo can tell a story about our trip to friends and family; for years our parents, and grandparents, store these precious treasures in Family albums, with the printed pictures they took from handheld cameras.
Starting a few years ago, the torch has passed to the new generations, those who are heavily influenced by social media, like Facebook, Instagram, and Twitter, outlets that are more and more a tool to stay in touch with everybody in just seconds.
From the social media platforms, the ones that are more notable for creating and storing memories are Facebook, and Instagram, being the last one the preferred by the teenagers and young adults. As this app, offers them the ability to edit pictures on the spot, by applying different filters to it, something years ago was not possible, as you had to invest and study on how to edit or photoshop the images.
From this application, has emerged a concept between the users: Instagrammable which means that someone or something will look amazing on a picture worth sharing.
When visiting Cancun, the first thing that pops our mind is the white sand beach, and the powder blue Caribbean sea colors, the perfect spot for a photo or one hundred. Nowadays it's also a way of bragging about your trip on a real-time basis.
We have put together for you, a list of places inside the GR Solaris hotel (and a few outside) that are worthy of having in your camera roll, and sharing on social media.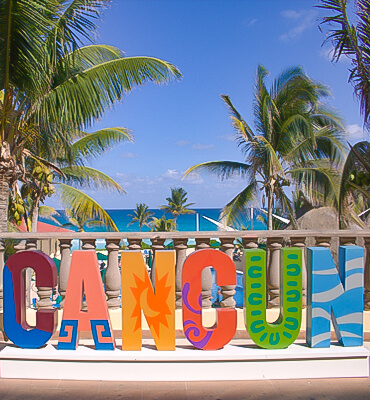 Cancun sign - As a trend that started a couple of years ago, every major city has a colorful sign that denotes its landmark, and a must, when visiting is taking a picture beside it. Well GR Solaris has the solution to that, as it has his own sign, outside in the hotel terrace, with a beautiful view of the pool and the Caribbean sea, you can take the picture, in daylight or nighttime, both ways the light will be perfect for getting a few clicks on that camera phone.
Gazebo - You might not be getting married (again), but the Gazebo, offers you a great Frame in front of the ocean, to take pictures at, combining the great sunlight outside of it, with the shadows underneath it. Make sure to take photos on every angle available, that way you could have several different backdrops.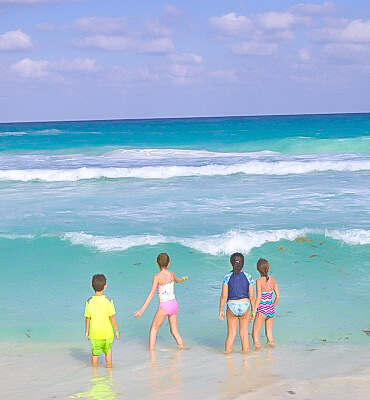 The Beach - with the blue turquoise sea as a backdrop - as you know Cancun has miles and miles of white powdery white sand, and the enchanting blue water, that you can swim on, but it also is a perfect place to take pictures at, as you can enclose on square frames, and the location of our hotel is semi-private, having fewer people walking around and photobombing your memories.
Panoramic room - if you have the opportunity to upgrade to this room ( if available, only 7 total) I must tell you it's worth it, as it has a front ocean view, with a side view of the pool that's also a partial view of the sea, you will fell in love with them, as the decor and colors are soft, and surely a great place to print memories.
Marco Polo - Our ala Carte restaurant is one of the most instagrammable places in the entire hotel, either you take pictures of the dishes you order for dinner or pick another concept, as this restaurant has red painted walls, and decorations as lion sculptures, that make perfect props.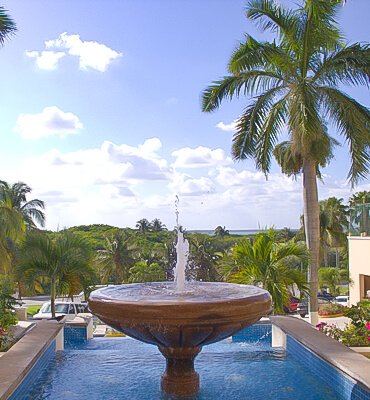 Fountain - just outside the hotel, before hitting the pool there is a water fountain, that will be ideal for capturing images with a backdrop of the pool, choose different times in the day, where you don't need to filter it. Guess what, there is also another fountain perfect for a pose, this is the front entrance one, as it sits on the top of the hill, it drops down to the parking lot, but the best pictures can be taken early evening, when the sun sets on the back of it, you will have a colorful orange view, an original photo spot.
Staircase - Yes, GR Solaris has a 2 floor high staircase outside, that connects the Lobby to the main pool, but the beauty of this is that ist surrounded by palm trees, just picture this: you in a gown (or suit ) standing on the 4th or 5th step, with a glass of champagne in your hand and the shade of the nature on you, that will make an excellent profile picture.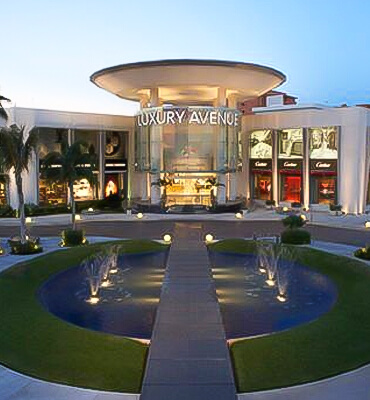 Kukulcan plaza - also called luxury avenue, it's a shopping center located 5 in away from the Solaris hotels, what is unique about this place, apart all the name brand stores, is the decoration inside and outside of the complex, in it you will find long white hallways, with bright lights, chandeliers, and square structures, attractive designs you can pose at; out in the street, you can see some fountains split by a walkway, and terraces that show the beauty of the city.
Mirador lookout / Playa Delfines - only a few steps away ( it's an uphill walk tho ) you will find a public beach called playa delfines, on the top of the mountain you will have a lookout dock, while everybody will be lining up at the Cancun sign (which you already take pictures at the hotel), you can take advantage and take a photo on the wooden dock on top of the hill, its an unique portrait.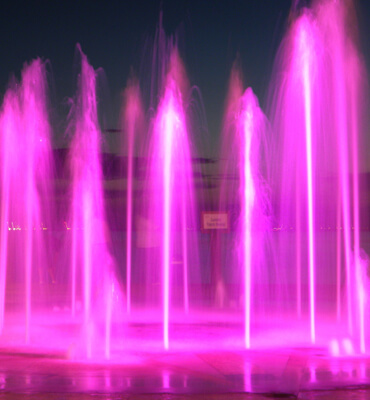 Dancing fountain / Plaza la Isla - An open-air shopping mall, 3 miles away from our hotel, that has lots of attractions to take pictures at, and also to buy some souvenirs, there are also several bridges and fountains that will look good on your timeline. The one we are talking today is the Dancing fountain located on the back of the plaza, it's a floor fountain, so you can walk right in, you'll be dry for a second, while the show starts, zipping water through the air from one spot to another, and with you in the center of it. An image you won't want to miss.
Here you have a few of our recommendations, of places within our hotel, that are Instagram worthy either for your Instagram feed, Instagram stories, or even a live video. The options of capturing and sharing your best moments it's yours, just don't forget to tag us on your fantastic trip #clubsolaris #solarisexperience, you might be featured on our Fan Friday post made across our social media.