Holiday for Women at Cabo
March is a month where holidays are near, and to commemorate International Women's Day, it is a good excuse to ask ourselves if: Have you made any trip alone or would you like to do it?
If you plan your next vacation, you need to know that Los Cabos Secretary of Tourism has announced that it is safer than ever The public and The private sector have invested in improving security infrastructure, equipment, and staff. So if you don't know where to go, this destination is an excellent option to start your great adventure.
SOME TIPS FOR TRAVELLING ALONE
Although traveling alone could have more benefits if you want to have a complete vacation experience, here are some tips for approaching your travel.
1. Plan your itinerary
Nor have to make a very detailed itinerary of activities. But a list of what you want to visit and do. This will help you organize your time for each activity in your stay.
2. Research how to get around each destination
A few weeks before, research how to go from the airport to your accommodation. There are several options to go from the airport to the city, like some buses that you can take from the airport to the downtown, and other buses around the hotel zone. But, if you prefer more comfort, some app transport is an option, safe and economical. Likewise, at Solaris, we have transportation, so you can ask about the possibilities and costs to get directly to your hotel after making your reservation.
3. How to choose the perfect accommodation?
In my experience, the perfect accommodation suits your needs. A recommendation is to choose a place in the tourist area that allows you to be close to the different activities in the city and save some money for transportation. Now, the All-Inclusive resorts give you the option of accessing tours, drinks, food, and shows. So if you are looking for a place that allows you to rest fully, this may be your perfect accommodation.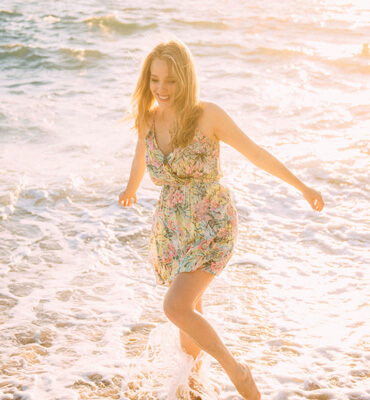 4. Join more female travelers and travelers
In your hotel there will be more people who will be traveling as you, so stay open to meet and create friendships with people from different places that will enrich your vacation experience. Also, remember that the hotel staff is there to support you in any case you need it.
5. Prepare a suitcase with essential hygiene products
Although you can find a pharmacy or supermarket anywhere, do not forget to make space in your suitcasefor feminine hygiene products. As well as any cosmetics product that you want to take with you that fully adapts to your tastes and needs. Remember that it is not allowed to carry more than 100 ml in hand luggage on the plane. Therefore, take this into account when preparing your suitcase.
BENEFITS
You do not need anything else than your desire and determination to travel. With that, you already have everything you need to travel the world and soak up its beauty and different cultures. Besides that, it brings various benefits for you:
-You know yourself better.
-It helps you to be independent.
-Enjoy the details, and you will begin to see the world with different eyess.
-You are free to approach your time whatever you want.
-It helps you to socialize.
On your trip, remember to listen to your intuition, do what makes you feel comfortable. Do not let anything stop your freedom, and enjoy traveling the world.