We can be the host of your Dream Wedding.
As you know, One important step in a Relationship is to unite the vowels and promises in holy matrimony, the ultimate couple commitment. Getting married is no easy task, as the planning of it, sometimes takes up to a year, there are several factors that involve this special day, first a wedding dress/tuxedo, then bachelors parties, for the big day: Venue, food, drinks, music, cake, flowers, decorations, waiter services, valet parking, afterparty, judge and much more, sounds stressful right?
Well, yes it is stressful, and that's why today, we want to offer you an option into consideration if you're planning to tie the knot.
Picture this: walking down the aisle, with the sand at your feet, on a beautiful weather and the crush of the waves in the background, while having some smooth Violin or Sax playing the wedding march, and intimate wedding with close friends and relatives, to enjoy this special day, of course, all of it Recorded and captured by a team of professional photographers, sounds cool right ?
Royal Solaris has different packages according to what you're looking for, you might ask why is there an additional charge if I'm already paying for an all-inclusive, well the answer is simple, there is much work involved, with Catering and some of the vendors for this event are external to the resort, like floral arrangements, Audio and Video productions, to know which package are available at each destination, visit our section or send an email to [email protected] or [email protected]
We have wedding coordinators, that can simplify the work for you, and this might be just perfect for you and your spouse, lets us take care of all the details, just make sure to find your perfect dress, and don't forget to send the invites.
Well at this point we might agree that the Venue is the Solaris Resorts, but there are still options inside of the resort to do the ceremony and the reception, for example, the service can be held either at the beach as we mentioned before, or at one of the Gazebos ( only available in Cancun ) in Cabo we have a mobile one, or an Arch, or one of our main plaza ( Del Sol, Socorrito or Zeferino ) the option will be yours.
The reception can be held in a whole wide of places: like the beach, one of our Saloons ( conference rooms, the plaza, that can be adequate to hold your guests, or even a private dinner at one of the restaurants, as we could shut down a restaurant for your special event.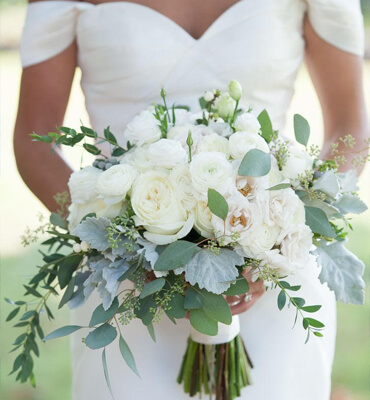 One of the pre-parties held for men and women, before the big day, is the bachelor party, one last opportunity to hang out with your best friends, and be loose, having fun, guess what, when coming to a Resorts that is All inclusive like Solaris, you can have fun in a safe and closed environment, you can even hold a private party with the friends and family that attended for this special day, in Cabos we also have the Panchos Disco, to Dance the night away, or if you prefer in Cancun, the party zone is only 10 min away from the resort, the idea is to be with your best man, maid of honor, and the rest of the male and female guests that are coming with you.
We work with different flower shops, as we don't have any in-house provider, So you can bet that your favorite one will be on their catalog, you will have the perfect bouquet, with the flowers of your preference, also the decorations either for the wedding arch, or for the table toppers can be with natural flowers, a unique touch, that will cherish this memory within your guests.
Music is always an excellent way to set up the mood in a wedding, you would like to think about a Sax or violin player for the religious ceremony, and then for a DJ, or a live group for the reception, our lovely wedding coordinators, can help you decide, and provide you with the cost of each one that better fits your budget, also remember we are in Mexico, so for the Afterparty one of the most common musicians are the Mariachis, who will light up the event with their rhythm.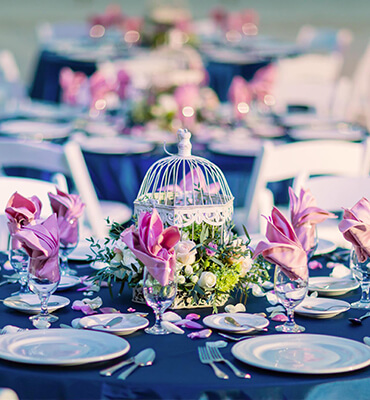 As I mentioned before, you're in an all-inclusive, where drinks and meals are already included for your guests staying in the resort, but additional to the package you picked, we can set up a special dinner and wedding toast with sparkling white wine in a restaurant or a designated area.
Well, this is a bit complicated, as our wedding coordinators told me they are busy all year long with weddings and renewal of vows, as a recommendation in October and November is the high demand for the ceremonies, and December might be the month where they have more availability, check with the destination you choose, which could be the best time for you and your group.
As part of your package, you have the hair and makeup for the big day, manicure and pedicure provided by our lovely SPA ladies, in a relaxed ambiance, and for the groom we have a haircut, and beard trim, the day after the wedding you will receive a couples massage for 50 min ( check availability and timeframes )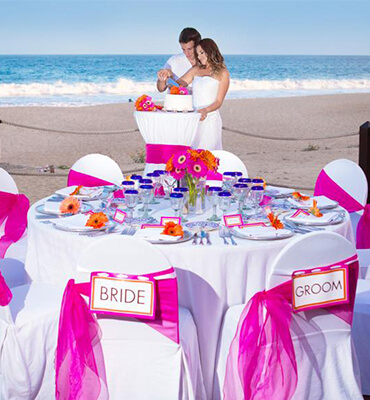 We have several packages that include different things either for a Wedding reception/ ceremony or for a renewal of vows, check with our wedding coordinators what's included in each one.
Solaris Silver covers up to 2 persons ( bride and groom ), and it's a perfect fit for an intimate Renewal, something private between you and your partner.
Solaris golden, with up to 12 people, a small group of family members, can be the witness of the joy of the union of two souls for the rest of their lives.
Solaris platinum, one of the most complete packages, that allows you to have 25 of your closest friends and family enjoy the resort alongside you.
Solaris Royal - Our most complete package, that allows you to have up to 40 invites to the ceremony/ reception in the resort, the one that includes most of the things mentioned in this blog.
Yes, a new age tradition that can be performed in the beach, with the help of the photography team, this is something apart from the whole wedding package, but that can be done, in your same visit, a beautiful memory to store, and the perfect closing for your Dream Wedding at Solaris.
Well there you have it, if you were considering to have a wedding that is going to be memorable, the Solaris Resorts are your best option, thank you for your vote of confidence with this and other events, we are committed to welcome you, and make this a spectacular event that you will never forget.
*Additional Guest can be added to the packages, check local wedding coordinator for a personalized quote.
**Things mentioned in this blog, may not be All in the wedding packages, verify which ones are included first, and which fits better your needs.