Culinary Option in Los Cabos
When we travel to a destination as beautiful as Los Cabos, we want to relax and not worry about anything, especially for one of the essential aspects of our trip: food.
That is why, at this All-Inclusive Resort, we have an excellent variety of restaurants and dishes for you.
Start the day in front of the sea
Every morning, we desire to have something natural and delicious for breakfast, enjoy a coffee with a piece of baked sweet bread, or a homemade omelet with fresh orange juice. Now imagine that you are doing it, right next to the beach, at dawn, while listening to the sea waves. That sounds good, right?
In our restaurant Café Solaris, you can make that dream come true, especially if you are one of those who get up early and enjoy the whole day at your destination. From 06:30 to 10:00 AM, we have the Buffet, so you can eat fresh fruit, natural juices, and traditional chilaquiles. If you prefer, one of our collaborators will make eggs for you, with what you want and how you want. And yes, you can ask it with extra bacon.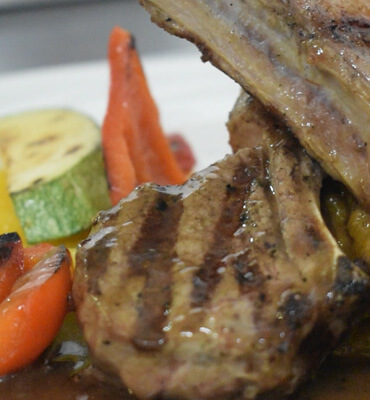 Enjoy dinner time after exploring your destination
Currently, there are four restaurants: Rosmarinus, Café Solaris, Marco Polo, and Pancho's. We will briefly explain all the options that you can find in the menus.
Marco Polo is a gala restaurant with a la carte menus, French and Italian cuisine specialties, with a mixture of the Mediterranean.
Even though there are several kinds of menus, if you crave something different, you can ask your waiter for other options. If you have had a good day at sea and get a catch, you can ask our chef to cook your fish.It has three exclusive menus, French, Italian, and the Mediterranean:
The French Menu have dishes where the main protein is lamb or fish, with garnishes of nuts, vegetables, added blue cheese, and some sweet touches in the food.
The Italian Menu has delicious mixes of sea and land; like, beefsteak and salmon with a sparkling wine sauce and ginger. Warm flavors that make anyone smile.
Landing to a more Baja climate, the Mediterranean Menu where chicken, beef, and seafood are the protagonists in each dish. Refreshing citrus-flavored salads to add an exotic touch to dinner, all highly recommended.
Any menu is exquisite, but a glass of wine is always an excellent digestif to enjoy with your loved ones.
Suppose you like to eat some national dishes or tropical and cheerful drinks such as Margaritas. In that case, Pancho's is a great option. Hot sauces, spices, corn, and aromatic herbs, among other ingredients.
In addition to these magnificent places, don't miss our buffets at Café Solaris. Where our chefs always prepare to give you fresh and different food, with the best wines.
Close to Solaris
If every time you come on vacation, you love to explore all the corners of your destination or enjoy the local cuisine. In that case, there are some places very close to Royal Solaris that you can visit.
In front and to the sides of Solaris so that you do not walk too much. There is an excellent variety of flavors and entertainment for you to enjoy at dinner time and during your meal.
Macca, walking or by transport, you can get to this small restaurant. By the way, if you show your Solaris bracelet, you can get a 10% discount on your order. In this restaurant with a somewhat vintage atmosphere, you can eat delicious pizzas, cuts of meat, and pasta that you can mix with the ingredients you want.
Latino 8 is a reasonably popular restaurant in Los Cabos, daily with live music from local singers and artists. You can also appreciate a small art exhibition every Wednesday. In this place, you can find delicious salads and typical dishes from the interior of the Mexican Republic, among others.
Spicy Tuna. For lovers of oriental cuisine, this place is in Plaza Pescador. There are several dishes on the menu, and their prices are reasonable about taste. If you are lucky on the sea, they can cook your catch to your liking and enjoy it during the happy hour that there is every Tuesday.
Fish and Grill. The ceviches and more selections made with fish and shellfish; an excellent option if you come to Los Cabos during the warmer months. By the way, it also has a happy hour.
The Forchetta. If you travel in seasons where the months are colder, possibly one of the options that invade your cravings is the warmth of home or warmer dishes characteristic of Italian cuisine -it is my favorite-. Some diners may recommend the meat carpaccio, the lasagna, the Caprese with mozzarella di buffala, and pizzas; without forgetting an exquisite wine.
Rock and Brews. Music of the 80s and some days you can enjoy live Rock, burgers turn out to be quite famous. An excellent option if you have a craving for fast food and quite close to Solaris.
La Manzanita. Although everything is included in the Tours, it is nice to have a snack that satisfies your cravings on the bus or to enjoy it later. This stand offers fruit juices, smoothies, coffee, sandwiches, burritos, and some local treats you'll love.
Chula Vegana. We know that the preference for more organic and environmentally friendly options is growing, so we recommend this place. It will take you a few minutes to get there, but it is quite close to your hotel. They open from 8:00 AM. until 3:00 PM, and you can find a wide variety of Mexican or breakfast dishes such as sweet potato pancakes or green bowls. Everything is vegan, and some options are gluten-free.
In Los Cabos, there are many options to delight your tongue and make your stomach happy. However, remember that what makes mealtime more delicious is to share the moment with your loved ones.