Cancun is not just beautiful beaches.It also has extra activities,like going a candy store too much only to pick one, and they are not that far away from the Solaris Resorts in Cancun, a choice for every type of adventure seeker, most of them involving water.
They are available not only for kids, but for adults also, we have Themed parks, Eco-parks, natural parks, and water parks, giving a wide variety of options.
We have gathered a list of the favorites of the guest visiting Solaris resorts, and I'm going to explain to you the main activities in each one, there's no specific order to this list, so please enjoy our recommendations, and visit them of course.
Xcaret. The Biggest park to visit during your vacations, offers a mixture of jungle adventure, culture, and swimming, on the jungle, you can see different types of animal, birds and reptile species living in their natural habitat, with also a butterfly sanctuary in the place; with culture, you can learn a bit more about the Mayan culture and Mexican culture in general with the nightly show that features more than 300 performers on stage; on the swimming part, you can do snorkel, visit a sinkhole, an underwater river inside a cave, or even go to the beach. With the Sea Trek, you can walk among sharks or dolphins.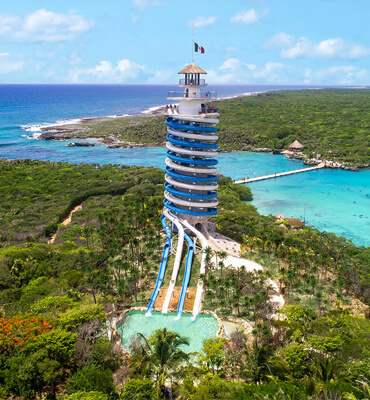 Xel Ha. One of the biggest natural open sea aquariums in Mexico, here you can enjoy a day with nature, and hundreds of sea life species you can see while snorkeling its big lagoon, they also offer adventurous things like a bicycle Zipline, the dive from the stone of the braves. They also offer a Sea trek, and scuba dive with Dolphins, manta rays and manatees.
Xplor. For the bold and Xtreme sports seeker, this park has 7 Zip Lines that run above the treeline for as long as half a mile, giving you the sense of flying, some amphibious ATVs to do across jungle and river ride, and a Stalactite underground river, they have rafts, with hand paddles, and exciting and sometimes exhausting tour, Want to add more excitement, go at night time an do it as Xplor Fuego, with several torches serving as lights. Having a bit more edge while doing the activities.
Xoximilco. The water ride that represents the Mexican culture at his finest, it all starts with a kermesse with old Mexican games, like the lottery, throw the rim in the arrow and balloon popping, like in the fairs. Then you board a Raft with 20 people, and it takes you on a water ride through the park, with several live music bands representing the traditions of each región in Mexico, during the trip there is also a Game called toques ¨shocks¨where you have to hold a metal stick connected to a battery, giving you electrical shocks, whoever stands it the most wins.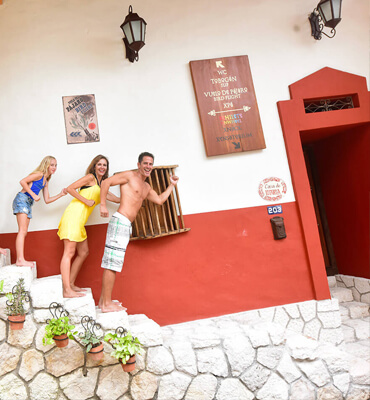 Xenses. A fantastic park that will take you on a journey through Land, water and Air, and make you doubt your eyesight, they have two different ways of experiencing it, the consensible or inconsencible, in the first one, you will experience everything to the fullest, having to walk into pitch black rooms, relying only on your ears to go through it, taste some delicious fruits, like a lemonade directly from the three, also go thru a passage, where you can feel like a giant, or as a dwarf during the path. On the second part, Swim on a salt river, watch and listen to a giant heartbeat, or fly across the air in a zip line. It also has a giant kaleidoscope, a mirror labyrinth and much more, where you are the center part of it.
Xavage. A brand new park that fulfills your need for speed, with rapid rivers, speed boats, ziplining activities, off-road vehicles, particularly for the extreme sports athlete, to put up to the test your strength and abilities, surely an excellent park for the adrenaline junkies.
Xenotes. One of the biggest jewels in the Mayan Riviera are the Cenotes ¨Sinkholes ¨, this tour takes you thru 4 of them symbolizing the 4 elements: Water, Wind, Fire, and earth, you can perform diverse activities in them, like rappel climbing, kayaks, and Ziplining, also, of course, you can dive from a platform and swim in them. There's even a water slide to get in.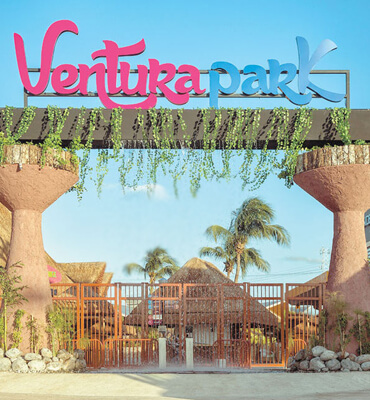 A complete park, made especially thinking of the kids, with 7 worlds, each one with a different theme: Wet and wild, a water park with slides and a lazy river; Fun World, with rollercoasters and fair like games; Ahh Ventura, that offer Bungee and Heli jumps, or an incredible zipline; underworld, for the Tech savvy kids, with laser tags and videogames, Dolphinaris, your encounter with natures smartest mammals; Amazonia, a Zoo museum, inside the park with several reptiles; and BeachOh, a beach club to relax and rest the day away.
An aquatic park located on the south side of the Island in front of the Solaris Resort, an excellent playground for the little ones or the old ones, as it features activities such as kayaking, zip lining, snorkeling in fantastic coral reefs with hundreds of colorful species, bicycle rides around the island, a beach club with an infinity swimming pool, and they also have a Dolphin encounter program, a complete park to enjoy the beauty of the Caribbean, and have fun while you do it.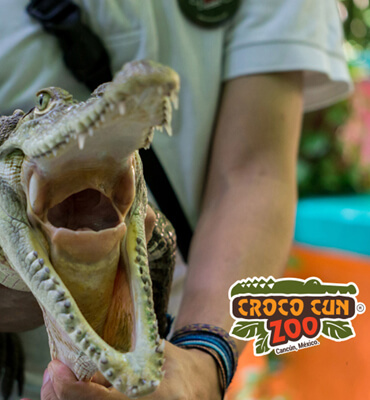 More than a park it's a Petting Zoo, with your not so average animals, this space is committed on preserving the local species by taking care of them in the zoo, and promoting the reproduction of the same, not all the animals in the crococun can be touched or feed, but a few which you can interact with, are spider monkey ( favorites among the kids ) baby crocodiles, parrots, and deers. You can take pictures with bigger reptiles like full-grown crocodiles and Boa snakes, as they are docile.
A small attractions park in the south end of Isla Mujeres, that gives you the opportunity to enjoy the beauty of the island at its finest, with Water activities such as Kayaks, Paddleboard, and snorkeling in the Caribbean sea, do physical activities like bungee jumping into the water, or wall climbing in the pier ( without a safety rope ), they also have a beach club, with 2 pools, and a 2 waterslides, and a magnificent restaurant, where you can admire the sunset.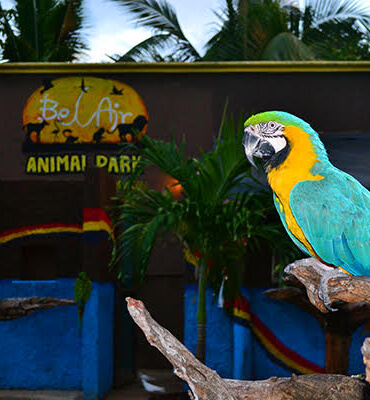 Another Zoo in our list, that allows us to interact with over 350 species in the región, between animals, birds, and reptiles, you will feel impressed by the Lions, Tigers, and Pumas wandering around during the guided tour, there is a show in the afternoon, that the boys and girls will love, in this park you can also enjoy water activities like kayaking and snorkeling. However, what will impress you more as I was, it's the union of the salt water and sweet one, home of a family of manatees. Did I mentioned that to round up everything, it has swimming pools and a water park.
An Extreme adventure park, that its just in the middle of the jungle, even tho it has a lot of unique activities to do, they limit the admission to small groups, so they can enjoy it the most, yes you will find 10 Zip Lines, RZR off-road cars, and Cenotes, as in other tours, but there are 3 particular things that distinguish this park from the others, One is Tarzania (a personal human rollercoaster), second a bungee swing, and third a jungle coaster, their central tower also features a crashed plane, talk about decorations right.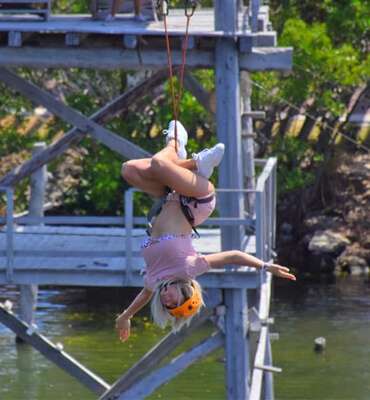 A new option without having to leave the comfort of the hotel zone, as its located on the lagoon side of the Kukulcan Avenue, a park that balances the Mayan culture with the 5 activities that they have to offer, learning while you have fun. Starts of with a video on a 247 inch screen, where you get the basics about the Mayans, then you can do the Mayan Zip wire over the Nichupte lagoon, experience a mangrove tour on a speed boat, The Mayan path, a suspended bridge that allows you to admire the beauty of the nature, and lastly the Mayan Calendar, a visual show with a giant calendar and its solar cycles.
A jungle tour that ends up in a beautiful Cenote, this park offers you the option to go snorkel to a beautiful sinkhole by 3 different ways, Option 1 you can take the Unimog ( a military 4x4 truck ) option 2 is do it thru a canopy ride on a zip line, crossing the jungle at high speeds, or third you can borrow one of the bicycles, and ride your way there, whichever option you pick, you won't regret. The end Result is just as satisfying.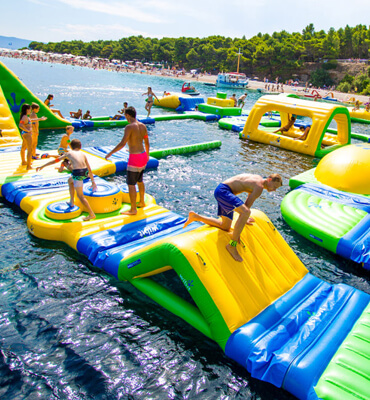 Another Waterpark that you can enjoy without leaving the Hotel Zone, the cool thing about it, is that it's all made from Floaties, the course has 300 inflatable modules that challenge your ability to stay dry, with Climbing Walls, balancing bridges, trampolines, and swings, everyone has a lot of fun, and don't worry, if you fell into the sea, the safety measures always include a lifejacket and a helmet, and you can try it again, the point is to complete the course.
A different park, that allows you to either snorkel in a Cenote, or Dive into an Underground one, inside a Cave, discovering fabulous things along the uncharted path, with a total of 5 Cenotes you'll never be bored, also its near a village, where they perform Mayan wedding ceremonies by a chaman, the hard part about this park, it is so secret, that it's not easy to find, between Playa del Carmen and Tulum.
A Water activities training park, based on professional opinions, water sports like Wakeboard, water sky can be learned here form the basics up to professionals, has two artificial lagoons to do so, and space is limited per day, the main attraction is the Wakeboard a combination of surf and Ski. Also, they are pulled by cables through the course, and they also offer Zip Lining, water slides and inflatables for the kids, I've even heard that a world championship will be held this upcoming October.
As you can see multiple Parks, with different activities, are located on Cancun and surrounding areas, some are very closeby, other a bit farther away, but there is an options to choose from to all the people in your family, parks entirely about nature, or parks for the extreme sports billy, Zoos and more.
We know we miss a couple of them, and we predict more will be opening in the next year or so, take a step and visit any on the list.All of these tours can be book directly with our Sol- Ha travel agency in Cancun